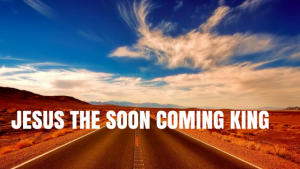 SONG: HE IS ALIVE AMEN /2X, JESUS IS ALIVE FOREVER, HE'S ALIVE AMEN.
CONFESSION OF SIN; HEB 10:17 
AND ALL THEIR SINS AND INIQUITIES WILL I REMEMBER NO MORE.
ANCHOR SCRIPTURES: MATTHEW 24:36-39, MATTHEW  25:13.
MEMORY VERSE:1ST JOHN 5:11.
GOD HATH GIVEN TO US ETERNAL LIFE AND THIS LIFE IS IN HIS SON.
 WHO IS JESUS CHRIST?
He is God himself that became flesh and dwelt among His creation; what a mystery. He came personally to deliver His creation; the creator humbled Himself to deliver the creation from the ocean of sin.
Our Lord Jesus Christ left transgenerational footprints of love, peace and joy to humanity. The Holy Scripture says, greater love hath no man than this that a man lay down his life for his friends.
Jesus Christ the soon coming king died for the whole world. Why? So that we will reign with Him eternally in His kingdom. Beloved, please repent today and drop every habit and character of hellfire in your life.
A man can receive nothing except it's been given to him from above.
Jesus Christ is the divine gift from above to humanity to deliver humanity eternally from the satanic nature of sin, addiction, unforgiving heart as well as bitterness towards your fellow human being. The Holy Scripture says, he that loveth not his brother abideth in death. (1 John 3:14).
PROPHETIC PRAYERS.
Holy spirit my everything,  give me the grace not to be left behind at the end of my race in Jesus name.

Grace upon grace to love Jesus every day of my life, oh Lord let it continue to be upon me in the name of Jesus Christ.

Holy Ghost fire,  detach my destiny from the evil pattern of my father's house in the name of Jesus. AMEN.
A call to surrender:
Brethren, Jesus Christ our lord and saviour love you. Invite him into your life today. Surrender totally to him and be eternally free.
Remain Spirit-filled in the Lord Jesus Christ.
 Your friend and brother in the school of the Holy Spirit,
 Joseph Oluwagbemiro